Features - Previews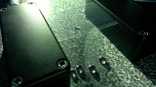 Nokia's Cambridge Research Lab is investigating several uses for Carbon nanotube technology. Built from a single layer of Graphene, a new type of Hydrophobic coating could make phones much more resilient to wet environments, while providing a cheaper alternative to current touch screen technology, which is based on rare earth metals. Since Graphene is a form of Carbon, one of the most abundant elements on the planet, the raw materials are much easier to obtain. We spoke to researchers at Nokia World's Future Technology tent to find out more.
Navteq were present at Nokia World 2010, with one of their GeoData collection cars taking centre stage. They were also showing a promotional video of their LIDAR based 3D data collection system. Also on display was the first showing of a mobile client to actually make use of Navteq's 3D street maps, running on the Maemo-powered Nokia N900. Read on for more details and a demonstration video.
One of the future technology demonstrations at Nokia World 2010 was an innovative system for providing indoor location services. Indoor positioning has always been a missing link in navigation software because GPS signals cannot penetrate into buildings. This new system from Nokia Research Centre has the potential to revolutionise navigation, providing a seamless transition between outdoor and indoor navigation. For example, allowing people to navigate to a public place, and then find their way around once inside, and much more. Read on.