A (slightly geeky) cross-section of the smartphone world
Published by Steve Litchfield at 12:16 UTC, March 21st 2013
I should explain the personnel involved (who, hopefully, won't mind their current choices of hardware being shared - after all, they'd already been recorded for the podcast).
The central point I want to make is that each of us wasn't meeting under any one site banner - the Phones Show Chat podcast is platform-generic, and I was expecting a fairly wide selection of devices to be brought along. In fact, I hadn't suggested that the others bring along more than their main smartphone, but somehow geeks of this calibre rarely seem to travel with less than two devices, so we got a fair selection anyway!
The one clue I had that I was with like-minded tech enthusiasts was that I knew Andy Hagon had recently bought himself the fabled red Nokia 808, that he had a Nokia N9 as his main device (ref. his Twitter handle, @N9Andy etc.) And that I was pretty sure that James Honeyball still had his 808 too.
As it turned out, we quickly established that all four of us had Nokia 808s! Here's proof, of the three 808 colours, shot by the extra black 808: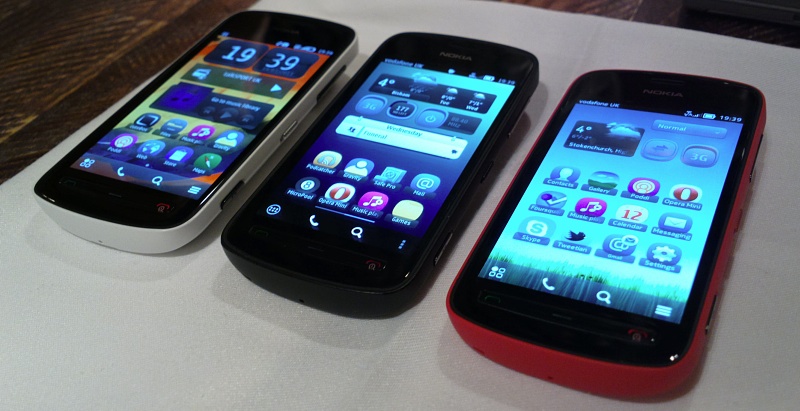 It then became apparent that the Nokia N9 was almost a clean sweep too, with myself and Richard both whipping out our N9s to join Andy's, with James saying he owned one but had forgotten to bring it. And then, an hour later, James rummaging in a pocket and discovering that he had brought his N9 after all. So, another clean sweep, four N9s together too...
At this point, I imagine that this hotel table was feeling pretty special. To get four Nokia 808s together is almost unheard of in the real world - to get four N9s together is just as rare - and to get four 808s and four N9s all in one place at the same time is surely unheard of?
So what else had we found in our geeky pockets?
Here's the breakdown (apologies if I missed something out!):
Steve: Nokia 808 PureView (as primary), HTC One (as backup), Motorola RAZR i (newly updated to Jelly Bean), Nokia N9 [plus a selection of old phones brought along for Andy to see]
Richard: Samsung Galaxy Note II (as primary), Blackberry Z10 (as backup), Nokia 808, Nokia N9, Nokia Lumia 920 and Lumia 620
Andy: Nokia N9 (as primary), Nokia 808 (as backup)
James: LG Nexus 4 (as primary), Nokia 808 (as backup), Galaxy Note I, Nokia N9, Nokia Lumia 620, ZTE Blade III
Quite a selection, though it's immediately apparent that a certain fruity company is completely unrepresented. Again, I should emphasise that each of us has, at some point, had full access to every smartphone platform and that the devices listed here are purely by choice and personal preference (rather than being locked into a phone contract or even peer pressure!)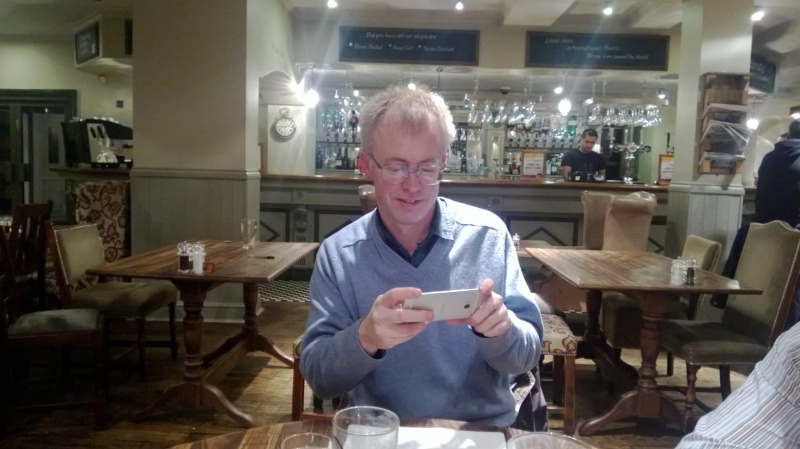 Looking at the platforms represented here, we have:
Android: 6 devices
Symbian: 4 devices
Meego: 4 devices
Windows Phone: 3 devices
Blackberry OS 10: 1 device
iPhone: err.... on other more 'normal' tables in the hotel bar, no doubt?
It's absolutely fascinating that, with all our tech expertise and experience, there wasn't a single Apple iPhone on the table. I'm sure we all know a geek who likes the iPhone, but as a rule I think it's fair to say that the more geeky someone is (and let's face it, spending three hours in a hotel bar talking about nothing but phones is pretty geeky!), the less likely they are to put up with the shackles Apple places on the iPhone hardware and software.
Despite the 808 and N9 clean sweeps mentioned above, there were still more Android devices represented than anything else, which does at least tie in with current platform marketshare. In many ways, geeks can approach Android in much the same way as Meego and Symbian, adapting its multitasking OS according to personal preference and with very few limitations.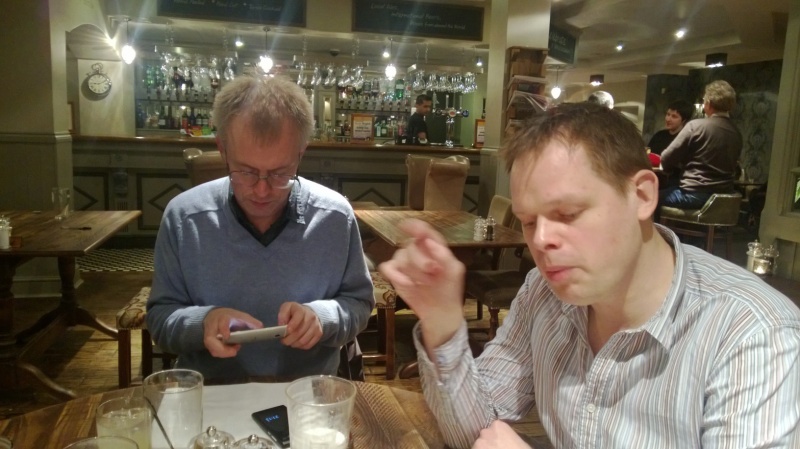 Windows Phone came into the discussion quite a bit, as you can hear in the podcast, though was largely centred around the way the £120 Lumia 620 on the table did nearly the same as the £400 Lumia 920, an issue that Nokia really needs to face at some point. Maybe a monster-camera Windows Phone device will at least give it true industry flagship status?
Yet it was the Symbian-powered 808 and the Meego-powered N9 that provoked a lot of the enthusiasm during the evening. The 808's flexibility and inspirational camera always generates a lot of love (though I demoed the HTC One's camera with native burst mode and impressed a few people, I think), plus the N9's elegant hardware and UI always elicit wistful 'what if?' musings from geeks I bump into.
The thing about the Symbian and Meego worlds in 2013 is that, in their twilight years, almost everything is a struggle, in terms of keeping up with apps and services that other platforms take for granted. And there's one thing geeks love and that's a challenge, a struggle, the pitting of wits against conventional tech wisdom.
Where an iPhone (or Windows Phone) owner might question whether something is possible and be rebutted with 'No, don't be silly', your typical Symbian, Meego (and now perhaps Android) user rarely takes no for an answer and then goes looking for a utility, a technique, a workaround, a custom patch, something to help the brains in our pockets become all we'd like them to be.
The PDA and smartphone world started off with geeks and early adopters, between 1993 and 2007, before taking off in a huge way after the iPhone and Android came along and opened things up to the masses. Yet, with Symbian and Meego in particular, I still find the most interesting intersection in the smartphone world is the one leading down 'the road less travelled'. The one leading to the hotel where phone geeks (like me) can rabbit for hours!
blog comments powered by