If you can't afford the N900 and Maemo 5, have a look at the N810 and Maemo 4
Published by Tzer2 at 3:59 UTC, September 2nd 2009
With the launch of the Nokia N900 and Maemo 5 just round the corner, it's almost been forgotten that the Nokia N810 running Maemo 4 is still on sale. It doesn't handle phone calls or text messages, it cannot access the phone network directly (though it can use your mobile phone's connection through Bluetooth) but it is rather cheap now at around 200 euros including taxes and for that money it's an excellent value media player and internet tablet. If you can't afford an N900 but still want to step into the world of Maemo, the N810 might be an interesting and easy way to do so.

The following is a review of the Nokia N810 from a present day perspective, almost two years after it launched in late 2007.
First of all, the N810 vs N800
Before we get going with the full review, some of you may be familiar with the Nokia N800 internet tablet which was launched in early 2007. The N810 is mostly the same as the N800, but there are some key differences too. Both have their advantages and disadvantages, here's a brief summary:

Same in N800 and N810: processor, RAM, screen size, screen resolution, operating system, webcam, built-in stand.

N810-only: slide-out QWERTY keyboard, GPS receiver, one miniSDHC memory card slot, one built-in 2 gigabyte memory card, microUSB port. The N810's screen is also easier to read in direct sunlight.

N800-only: two full-size SDHC memory card slots, FM radio, miniUSB port.
In general the N800 and N810 are really the same device inside, and most of the things that are said about the N810 in this review apply to the N800 too.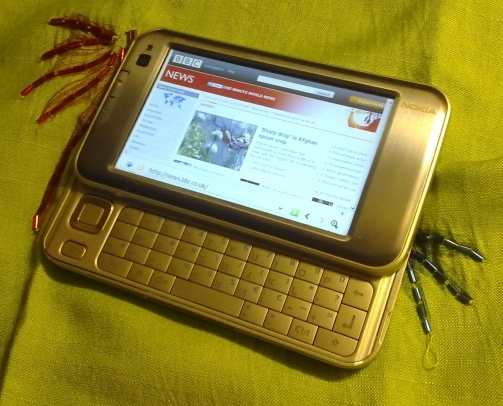 The N810 displays the PC version of the BBC News website by default
Hardware
The N810 will seem a bit large to Nokia smartphone users, being significantly larger than an N97 or even E90. The exterior of the N810 uses a lot of brushed metal, and it feels very classy. The matt finish means that this isn't a fingerprint magnet, which is a refreshing change from all the glossy devices that seem to dominate nowadays.

The N810's screen is a major attraction, with an 800 x 480 pixel resolution and at 4.13" it's physically much larger than on any other Nokia device.

The form factor is a sliding QWERTY keyboard which includes a direction pad on the left side. The sliding mechanism is smooth and fairly solid, with the bulk of the phone behind the keyboard so the weight is balanced nicely when you're using it. There is also a large built-in stand along the edges of the device which lets you prop it up on a table at a variety of angles. There are additional buttons around the edges of the N810 including a screen-lock switch and dedicated zooming and full-screen buttons for the web browser. There are two stereo speakers on the edges of the N810 either side of the screen, which are fairly loud but because they face outwards you don't hear them as clearly as forward facing speakers.

There's a simple low resolution 0.3 megapixel camera built into the face, intended for use in video calls through the N810's Google Talk client. Some applications can also use the camera to take photos, but these are very low quality, and it was clearly only included only as a webcam.

The N810 uses the same long-lasting 1500mAh BP-4L battery as the N97, and is able to stay connected to Wi-Fi in standby mode for several days at a time.

There's a messaging light in the top left corner of the face, which can be set to blink for various events including received IMs and e-mails, or can be just set to blink when the screen is off (so you can find it more easily in the dark).

This reviewer has had an N810 for about a year and a half now, and it's endured fairly well. There are no bumps or scratches, all its functions are intact, and the sliding mechanism still works solidly. There is a rattling noise when shaken, but this is due to the stylus moving about in its compartment slightly, and can be solved by removing the stylus (the N810 can be used with fingers if preferred).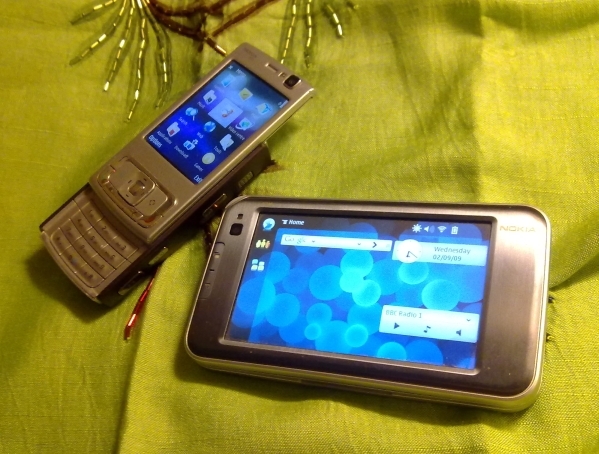 The N810 can connect to the internet through Wi-Fi or a Bluetooth phone
Internet
The internet is the N810's forte, as suggested by its official subtitle of "Internet Tablet". It can connect to the internet by two methods: directly through Wi-Fi, or indirectly by linking to a mobile phone through Bluetooth. The Wi-Fi option lets you use the N810 at home or in hotspots, while the Bluetooth option lets you use it on the move as long as you remember to bring your mobile phone with you. The connection system is very well thought-out, you can ask it to connect to wi-fi only, or to try wi-fi first and then use a Bluetooth phone if wi-fi isn't available.

Although the speed and abilities of the N810's web browser are not quite cutting edge today, it's still miles better than the average phone and the 800x480 screen means you can see most websites at full resolution with little or no scrolling. The support for full Flash 9 and AJAX also opens up a lot of content that most phones cannot view. The built-in browser is MicroB, which is based on the Mozilla engine used by Firefox.

The N810 isn't a mobile phone and it cannot access the phone network directly, but it can be used as a phone through VOIP services. There are official Google Talk, Skype and Gizmo clients either built in or available to download for the N810, and other forms of VOIP can be installed through various other third party clients. This reviewer has used Skype and Google Talk on the N810 with great success, saving a lot in phone bills in the process, but unfortunately video calling is restricted to the Google Talk client only. The Skype client includes support for SkypeOut and SkypeIn, and if you sign up to these services you're effectively turning the N810 into a Wi-Fi phone.

There's a simple built-in e-mail client which can be used with POP and IMAP accounts, you can also access webmail sites such as Gmail through the browser, and there are many other third party e-mail apps (such as Claws) which you can install if you want something different.

The built-in IM client only supports Google Talk messaging, but you can install third party messaging apps such as Pidgin which support all major IM networks. There are also dedicated third party applications for other internet services such as podcasting, blogging, Twitter etc, almost all of which are freeware and open source.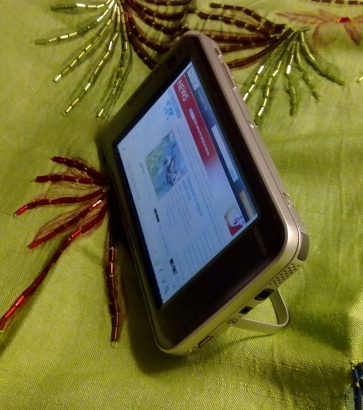 There's a built-in stand which can be set to a variety of angles
Media
The N810's screen is years ahead of its time, with an 800x480 WVGA resolution that is still at the cutting edge. Unfortunately due to hardware and software limitations the N810 itself cannot play video at full resolution, but even scaled up videos look pretty good on the 4.13" screen and the full-size stand lets you easily watch the N810 at a variety of viewing angles. You can watch MP4, WMV, Realvideo, H.263 and H.264 formats without any conversion, and there's also a very easy to use official Nokia Tablet video converter application which you can download free from the Nokia Beta Labs website. The converter lets you convert virtually any format which plays on your computer using a drag and drop interface, and is available for Windows and Macintosh.
Music playback is okay and the player has nice large buttons, but it may be a little confusing as it doesn't adhere to any standard Nokia layout. However, there's no need to use the built-in player because there are lots of alternative freeware players available, and you can add .OGG file support with a free third party application too.
The built-in image viewer is okay, but nothing special, using a file manager style interface for choosing which photo to view next. However, the N810's excellent screen means it's a good place to preview photos you've taken on a cameraphone. If you pair your phone with the N810 by Bluetooth and set it to be a trusted device, you can seamlessly browse your phone's memory directly on the N810's file manager, including photos and videos. If you want a good photo browser we would recommend Canola 2 (see below).
The N810's main desktop includes an internet radio widget by default, and this has a shortcut link (which looks like a musical note) that lets you browse thousands of internet radio stations in Nokia's online database. It's the same database used by the S60 Nokia Internet Radio application, but is accessed through Maemo's media player in a similar manner to music tracks. You can save favourite stations as media bookmarks, which means they get added to the menu of the front page's internet radio widget.

While we're on the subject of media, this writer would very strongly recommend installing the extremely excellent freeware application Canola 2 which not only is easier to use but looks much nicer too. Canola 2 is also an excellent player for podcasts, videos, photos and internet radio stations, and it effectively turns the N810 into a very impressive finger-controlled media device. On top of that there are a number of plug-ins for Canola which let you extend its abilities to cover other media services such as YouTube and Last.fm. At the time of writing Canola 2 is the most downloaded application for the N810 and it's not hard to see why. You can get it by going to maemo.org/downloads on your N810's web browser and searching for "canola", then just click on the green install arrow.
Computing & Software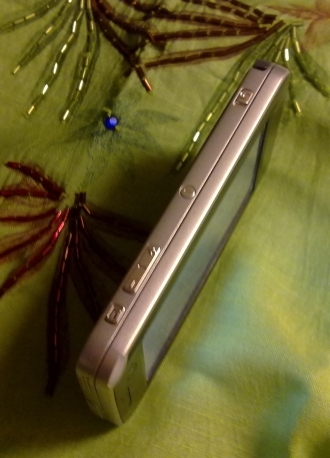 Maemo, also known as Maemo Linux, has from the very beginning been all about the computing side of things. The 700, N800 and N810 are essentially just pure pocket computers which happen to be made by a phone company, and its this purity of computing function that has attracted a devoted following among the computing community. One of the main driving forces behind Maemo is its similarity to many varieties of desktop Linux, especially Debian Linux upon which Maemo was based. This similarity means that it's relatively easy to port desktop Linux software onto the Maemo platform and many enthusiastic developers have done just that.

The N810's standby screen has three main icons: Web, Contacts and Applications, representing the three main functions of the device and each containing menus to access built-in functions and installed apps. The desktop section of the standby screen can be filled with various widgets (known in the Maemo world as "applets") that can be placed freely wherever you like, even overlapping each other, and some widgets can be resized too

There are about 400 - 500 free open source applications in the official Maemo repositories which can be installed straight onto the N810 by visiting maemo.org/downloads on the tablet's browser. Apps in the download section contain green arrow links which let you install the selected apps by just clicking on them. This is an extremely easy way to find the software you want, and it requires virtually no technical knowledge at all. Which brings us on to the next point...

YOU DO NOT NEED TO BE A COMPUTER ANORAK TO USE MAEMO! IT IS DESIGNED FOR NORMAL PEOPLE! The default interface on Maemo is 100% graphical, there is absolutely no need at all to use the command line, and this reviewer never does. If you are new to Linux, Maemo is one of the best places to start precisely because it is so easy to use. If you know how to use a Windows or Macintosh PC then you can definitely use Maemo too.

The reason some people seem to think that Maemo is for nerds is partly because you can access the command line if you want to, but you'd only really do that if you want to mess around with the N810's inner workings or do something unusual. You never need to do this for any of the built-in functions, Nokia have just left the door open for advanced users to play with advanced settings if they wish. In fact the door is so open that Maemo devices even let you boot from a totally different OS if you install one. But all that is optional, if you don't want to "get your hands dirty" then you can just stick with the graphical interface.
GPS & Navigation
This reviewer cannot recommend the N810 for GPS or navigation functions at all.
It's extremely difficult to get it to lock on to your position, it can take anything up to 20 minutes or so, and sometimes there is no lock at all. Even when you do get a fix it's soon lost. This is by far the worst GPS device that this reviewer has ever used. Even when you're outdoors on a perfect sunny day without a cloud in the sky it will still mess up the locking process.
In case you think this is just a dud unit, one of the most popular bugs in the official Maemo Bugzilla fault-tracking site is the N810's poor GPS, and it seems to be a general design flaw rather than manufacturing problems. To make matters worse there's no A-GPS and there's no mobile phone tower location because the N810 has no cellular radio, so the N810's GPS shortcomings are truly laid bare.

While the N810 has many impressive abilities, GPS is not one of them. Do not buy it for GPS functions.
PIM / Personal Organiser
Maemo 5 and the N900 have PIM software built-in, but the older Maemo devices (770/N800/N810) were never designed as PDAs, and they never came with any kind of PIM software as standard. There are a number of third party PIM applications which you can install from maemo.org/downloads, but none of them were specifically designed for Maemo devices so they are slightly fiddly to use.

Of course the alternative is to use online web-based PIM services such as Google Calendar, which will function through the N810's web browser thanks to its AJAX support. However that's always slower than using native software and of course if you're away from an internet connection you can't access the web.

Don't get an N810 if you want a PDA, because it isn't one. It's a pocket computer, not a personal organiser.
Overall
The N810 is a very nice gadget to have, especially at its current price. If you want an advanced pocket-sized internet device but can't afford a high-end smartphone, buying an N810 and using it in combination with a cheap 3G phone is a very good alternative.

Casual users should appreciate its internet and media abilities, especially if they install Canola 2, while advanced users should appreciate the sheer flexibility of the device. The N810's reputation as a geeks-only gadget is undeserved, it's actually a pocket-sized equivalent to a laptop or desktop computer. If you have a laptop or desktop PC but want something smaller and more internet-centric, then the N810 may be the device for you.
blog comments powered by