N900 talking to the Mac!
Published by Asri al-Baker at 18:23 UTC, April 10th 2010
With its 32GB of internal storage, TI OMAP 600MHz ARM Cortex A8 processor, 800x480 high resolution resistive touchscreen and powered by Maemo 5 OS, N900 is a very capable multimedia device. I use a MacBook running Snow Leopard and manage my digital music, videos and podcasts via iTunes as and iPhoto for my digital photos.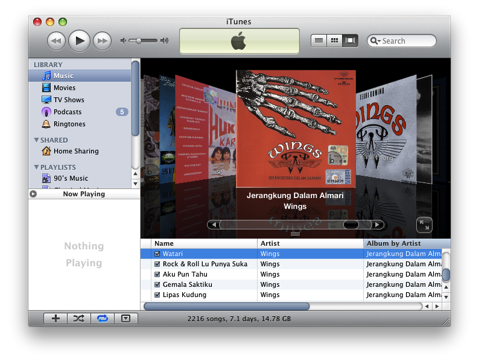 Previously, I was not bothered to sync my media files to my Symbian smartphones because I can plug the microSD card to transfer media manually (yes, through copying and pasting), but the N900 capacity made the geek inside me explore a new territory. It's easier to just use the USB cable than accessing the microSD slot on the N900, which is located underneath the battery cover.

One of the reasons is the amount of digital files I have and I need to listen to the latest podcasts on my daily commute. My favourite podcasts are AAS Insight, The Phones Show video and it's accompanying audio podcast Phones Show Chat [ha! - Ed]. I am not a heavy podcast listener but I enjoy listening to Rafe's encyclopaedic knowledge of the Symbian universe and the mobile industry in general, Steve's expertise in camera, multimedia and his kinda "old school" school of thought, Ewan's witty and thought provoking opinions and Tim Salmon's obsession with gadgets. I know, there's a very good podcatcher for N900 called gPodder which can download podcasts directly to the N900, but there's another story for another day.

To be honest, in my geekdom years, iTunes has become my preferred media manager on Mac and I kept a huge amount of digital media in it. Over 15 GB of music and videos. One of the sticking points for me is its beautiful interface and its offering to manage my media, particularly the MP3 tag editing and album art support. I want my N900 to read the MP3 tags correctly and display album art. This will make my media experience more complete.

Nokia Multimedia Transfer for Mac is the official solution developed by Nokia, you can get it from Nokia website. The version that I use is 1.42. The N900 is not listed as one of the supported devices but it works! Many file formats are supported, such as MP3, MP4 and also photos. When installed, it will put an icon at the top right taskbar where you can quickly access its functions within a few clicks. You can change its configuration, browse the N900 file structure, use dial-up networking, initiate transfer and more.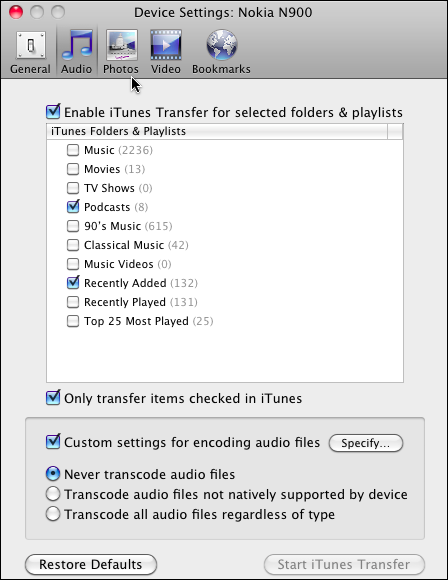 I set the N900 to sync automatically when connected via USB. It's very convenient and I don't have to worry about deleting my files accidently, or missing some of the new podcasts.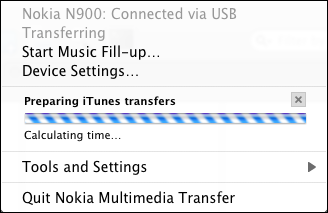 During the first synchronisation, it took only around 5 and half minutes to transfer over 4GB of data. Fast, isn't it?! The synchronization works very well for my needs. The N900 becomes an extension or a client to the MacBook. N900 = client. MacBook = host.

All in all, my portable personal entertainment system at the moment is the N900 and this is just the beginning of my journey :-)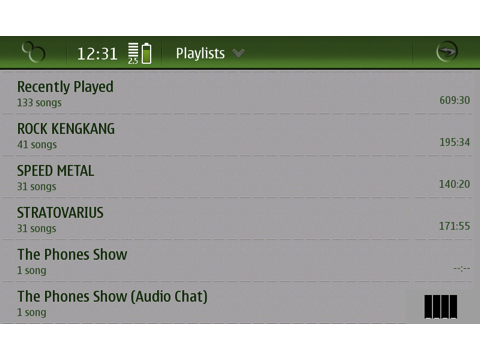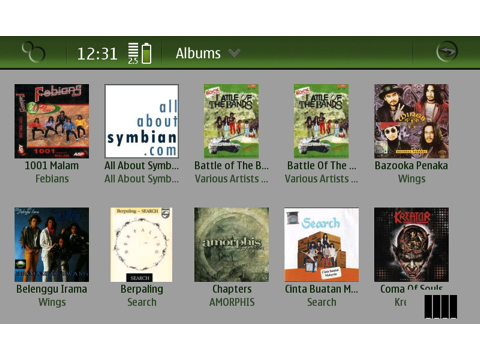 - Asri al-Baker for All About Maemo, April 12, 2010
blog comments powered by