Casing the N900 with CP-321
Published by Rafe Blandford at 18:22 UTC, September 25th 2009
Devin, writing at the Nokia Guide, points to two official Nokia accessories for the Nokia N900. The Nokia Carrying Case (CP-321) is a slip case for the Nokia N900 and will be available in bacl or white. The outside is made of leather, but there's a soft inner lining which helps 'keep the display clean'. No doubt, there'll be any number of casing options before too long, both official accessories and from third parties. Another sign the the N900 is on the way...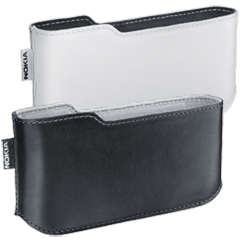 The Nokia Carrying Case CP-321 for Nokia N900 helps keep your device protected and close to hand. This sleek carrying case is made from high-quality leather and includes a soft lining to help keep your display clean. Available in black or white.

More on the Nokia Europe website.
Of course the N900 is also compatiable with a wide range of Nokia's accessories, some of which, including the BH-905 stereo Bluetooth headset, are listed on Nokia's N900 page.
blog comments powered by