PUSH N900 - modding project competition for N900
Published by Rafe Blandford at 15:49 UTC, September 27th 2009
Nokia has launched PUSH N900, a promotional competition / project, which gives the winners the chance to mod an N900. Currently the competition is calling for designers, hackers and modders to submit proposals for N900 based project. To get things started a few mods have already been created, including a modified Speak and Spell, N900 linked Rolodex, and FM radio / last.fm / N900 mash up.
The example projects used an Arduino (a single board micro-controller) to combine the N900 with a variety of 1980's design icons (or at least 80's products). For example the Speak and Spell mod lets you use the Speak and Spell keyboard to send a text message (all the hard work, including the screen, is powered by the N900.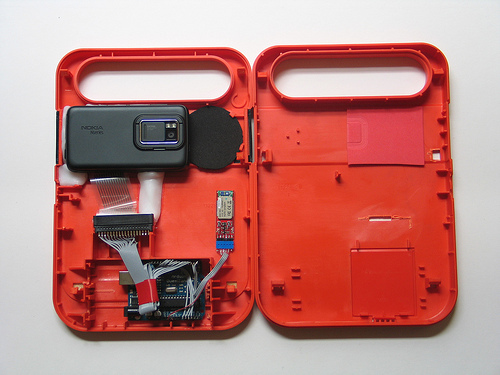 Example mod: Speak and Spell. More photos on Flickr.
There's a good write up of the launch and example projects on the psfk website.
Modders are invited to submit their project ideas via the PUSH N900 website. The submission deadline for proposals is October 12th. After this five winners will be chosen and they will be given funding to help them creation their modding project. Finally the completed projects will be taken on a world tour to help promote Maemo and the N900.
From the PUSH N900 website:
"PUSH N900 is a unique project from Nokia. And we're looking for help from the world's most skilled designers, artists, hackers and modders. We're asking you to team up, share thoughts and submit your ideas.

We want you to hack the N900. A panel of expert judges will then pick the most impressive and innovative ideas. We'll support you to make them real. Then we'll take the final creations on a world tour.

The task for you is to connect the N900 to something you love. As a bit of inspiration Hyper and Tinker.it to create a few example hacks. They decided they loved the 80s, so they connected iconic 80s products to the N900. Check them out here."
More information, including other example hacks, an introductory guide, discussion forum and blog are available on the PUSH N900 website.
Update: Here's a video showing off some of the example mods:
blog comments powered by