OM Weather developer interview
Published by Rafe Blandford at 18:54 UTC, October 2nd 2009
MaemoNews.com has published an interesting interview with the developer of OM Weather. OM Weather is a weather forecast application and is one of the most popular Maemo applications (150,000+ downloads and counting). The application supports widget / applet mode, which means it can be shown on the desktop. It is also one of the applications featured in Maemo Select.
"1. Why do you develop for Nokia's Maemo platform?

One way or another for the last ten years I have had to do with introducing open-source solutions at the enterprise and I was always short of a free platform for mobile solutions. In addition I always wanted to be engaged in programming of any open-source project. My friend Ed Bartosh said: There is a new wonderful platform Maemo and it is short of programs. And I tried to deal with it. Maemo is a very attractive mobile linux platform for porting and creating programs. Having a good Maemo community makes it possible to apply my creative potential fully."
Read the full interview on MaemoNews.com
Update:
Here's a screenshot fromOM Weather from Maemo Select:

Please accept my apologies I mis-identified the application screenshot (see comments). The application below is a Foreca weather widget.
As a bonus here is a screenshot from OM Weather, running on the N900, showing the weather forecast for the Maemo Summit (via @wonderhelm):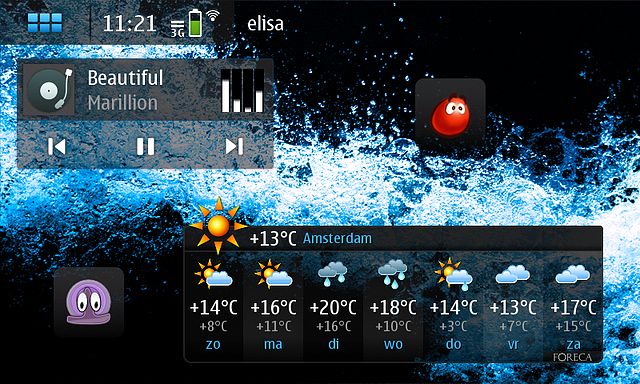 blog comments powered by