Sygic turn-by-turn navigation on N900 by the end of the year
Published by Rafe Blandford at 19:36 UTC, November 13th 2009
Sygic, a software company that creates voice guided, turn by turn, GPS navigation software for mobile devices, today announced that its product would be available for Maemo 5 and the Nokia N900 by the end of the year. The software will include mapping coverage for Australia, New Zealand, Thailand, Singapore, Malaysia, Indonesia, Brazil, Colombia, USA, Canada, Mexico, Bahrain, Kuwait, Oman, Qatar, Saudi Arabia, United Arab Emirates and all of Europe. Read on for further details and screenshot.
The N900 does have mapping software available out of the box: Ovi Maps. However, the software is relatively feature poor, especially compared to the Series 40 and Symbian releases. For example, there is no voice guided or turn by turn navigation (mapping and routing only). While Ovi Maps is expected to be updated in the future, it is very encouraging to see third party developers providing their own navigation solutions.
Sygic is well known for its navigation software, which is also available for Symbian, Windows Mobile, iPhone and Android.
From the press release:
Sygic's major competitive advantages are based on navigation experience from professionals: intuitive user interface, fast rendering and route calculation, low demand on processors and memory, automatic screen resolution adaptation, smart recognition and self-setting to keyboard or touch screen operation and above all the multiplatform engine, all this to make the application start quickly and run smoothly on any device.

Sygic announces the compatibility of its Mobile Maps turn-by-turn navigation application with the new Nokia Maemo mobile phones. The application will get ready for sale from Sygic web site e-shop by the end of 2009. Turn-by-turn voice guided navigation software Sygic Mobile Maps converts mobile phones into full-featured navigation devices. Sygic now extends its current compatibility range to support the new Nokia Maemo 5 OS devices.
Here's an image of Sygic running on the N900.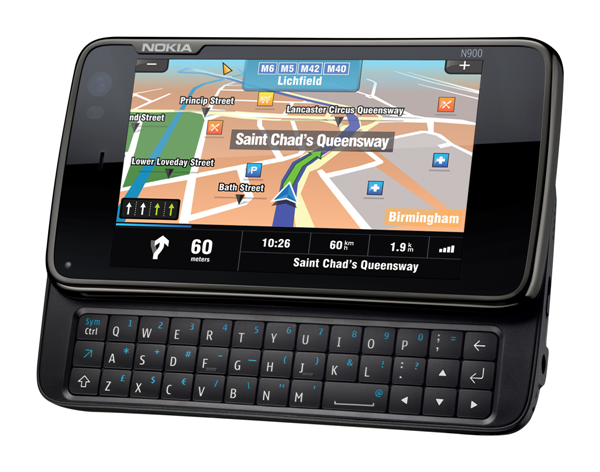 blog comments powered by