Why we need mobile advertising to work as soon as possible
Published by Ewan Spence at 15:35 UTC, March 29th 2010
"Show me the money" is a common refrain when looking at a business, and mobile is no different. Google already reckon the money is in advertising on mobile, hence their move to acquire AdMob (which is currently being scrutinised by competition agencies in the US), and Apple are expected to launch their own product for the iPhone and iPad early in May (see MediaPost for one of many pieces of speculation). So why is mobile advertising so important to the mobile eco-system? Read on for my analysis.
In my mind it's because it adds the third leg that makes an ecosystem stable. When there are only two parties involved (say a programmer and the person buying the application) it's a very close relationship, but it needs momentum to keep it going. As we've seen on various platforms time and time again, piracy is a huge problem that infects this relationship – sometimes to such a huge extent that it simply breaks down and the developer walks away.
Push too hard the other way and you have so many "free" and "lite" applications from the developers to try and keep the consumer in the official channels that the actual money making products are lost in the crowd, and people just move on to another free app the next day.
I like to look at things in simple terms, so when you make any products, either the creator pays (with their time and effort, perhaps hoping for recognition down the line); the consumer pays (by buying the application); or a third party pays… which is where advertising comes in.
It would be fair to say that without a strong advertising back-end, especially in the ease of use that Google Adsense provided, the current Web would not look the same. There would be less cheques going out on a monthly basis to websites without a strong online advertising market. And now the stage looks set for another entrant into the mobile advertising space, which is sure to both validate and grow the pool of money available for smart developers.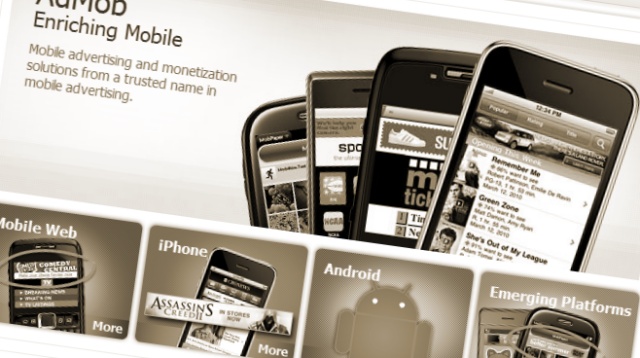 It's not just in website advertising that advertising clearing houses make an impact – the rise of in-game advertising is noticeable, with connected game-play tied into clickable adverts for other games, relevant products or associated content. This means that titles free to the consumer still earn something for the creators.
The advertising ecosystem becomes the third leg in any ecosystem, and once you have three legs (content creation, consumers, advertising) then you can start building without fear of falling over. You still need to find the balance between creator and consumer, and there's now a third force in play from the advertiser, balancing their need with the needs of the user, but nobody said this was going to be easy.
And so I cry out bring on the mythical iAd, bring on the clearance of Google to buy AdMob, and let's float the whole mobile infrastructure with a rising tide. Because, like all internet ad campaigns, there will come a point when advertisers won't be looking for a small sliver of sexy silicon valley users, but tens, if not hundreds of millions of people on a common, addressable platform.
-- Ewan Spence, March 2010.
blog comments powered by