Nokia looks to reorganisation to promote innovation and execution
Published by Rafe Blandford, Ewan Spence at 14:58 UTC, May 11th 2010
Nokia has announced a company reorganisation, which it says will increase competitiveness and allow it to deliver innovative products to the market faster. Nokia is planning to introduce a simplified structure for its devices and services business; it will comprise three components: Mobile Solutions, Mobile Phones and Markets. The new structure applies from July 1st 2010. Nokia have also appointed a new CTO, Rich Green, previously at Sun, who has many years of Silicon Valley experience. Read on for further details.
"In addition to extending our leadership in mobile phones, we are decisively moving to respond faster to growth opportunities we expect in smartphones and mobile computers," says Olli-Pekka Kallasvuo, CEO of Nokia. "Nokia's new organizational structure is designed to speed up execution and accelerate innovation, both short-term and longer-term. We believe that this will allow us to build stronger mobile solutions - a portfolio of products and integrated services that connect people and enable new ways of communicating, sharing and experiencing mobility."
The new Mobile Solutions unit focuses on Nokia's high mobile computers (MeeGo) and smartphones (Symbian) and will tightly integrate with Nokia's Internet services (Ovi). The Mobile Solutions unit will be headed by Anssi Vanjoki and will comprise MeeGo Computers, led by Alberto Torres and Symbian Smartphones, led by Jo Harlow. Services, led by Tero Ojanpera, will be part of Mobile Solutions and will continue to develop Ovi services for integration into Nokia's products.
Mobile Phones, headed by Mary McDowell, focuses on Nokia's traditional mobile phones (Series 40), but will also work with Services to bring further features and value (Life Tools, Ovi Mail, Ovi Store and so on) to lower end devices.
Markets, led by Niklas Savander, focuses on the 'go-to-market' activities of Nokia, including sales, marketing and the management of Nokia's supply chain and related logistics.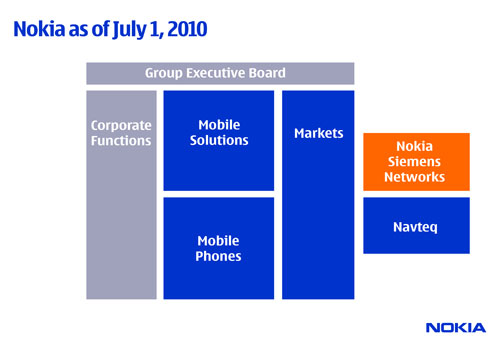 Corporate structure from July 1st 2010.
In addition, Rick Simonson is retiring from full time duties in July, but will remain as an advisor. Kai Oistamo, previously EVP for devices, is moving to the Chief Development Office and Corporate Strategy role (previously held by McDowell). Many of Oistamo's duties (R&D and technology strategy) will be taken on by Nokia's new CTO Rich Green, who joins from Sun and will be tasked with driving common technology architecture across Nokia.
Nokia's last major reorganisation was announced in June 2007 and was executed in early 2008. It created the current division of Software and Services, Devices, and Markets. However, there have been a number of smaller scale reorganisations in the intervening time period - Devices was effectively split into three components: Mobile computers, Smartphones and Mobile phones and in August last year Nokia announced the formation of Solutions (effectively a sub-division with connections to all other divisions), which is headed by Alberto Torres and started operations in October 2010.
The new Mobile Solutions division is a combination of the smartphone and mobile computers components of Devices together with Solutions and the majority of Software and Services.
It is a logical evolution of the corporate structure given the increasingly synergistic relationship between 'smart' devices, solutions and services. It shows that Nokia believes a holistic approach is needed in building the next generation of its high end mobile computers and smartphones. However it also suggests that Nokia is feeling the pressure from competition, especially amongst higher end devices, and feels it will be able to deliver more compelling user experiences by refocusing its corporate structure.
More details in Nokia's full press release.
Rafe Blandford
blog comments powered by