Maemo 5 Extras passes 10 million downloads
Published by Rafe Blandford at 8:01 UTC, May 24th 2010
Downloads from Maemo 5 Extras have now passed the 10 million mark. Extras is the primary repository for Maemo applications. This represent a significant milestone for community-led software downloads. It should be noted that there are other sources for Maemo application (e.g. Ovi Store) so the total number of software downloads to N900s is significantly higher.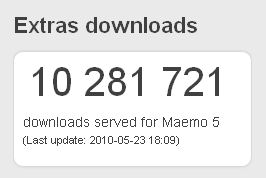 At the time of writing the Maemo 5 Extras download counter stood at 10,281,721. There are currently 284 items available for download, suggesting an average number of downloads per application of more than 36,000.
You can see a full listing of Maemo 5 Extras here.
blog comments powered by