Asus hints at future MeeGo products
Published by Rafe Blandford at 19:01 UTC, May 31st 2010
Asus, one of the leading netbook manufacturers, held a press conference at Computex in Taiwan earlier today. In amongst announcements about tablets and an Eee Pad ASUS talked about the launch of its own app store based on Intel's AppUp technology. While it will be available first for the company's Windows products, the intention is for it to also be used on MeeGo products once they are available. This suggests Asus intends to launch or have MeeGo variants of its products available in the future.
Chippy, reporting for Carrypad.com, was at the press conference and noted that AppUp will be pre-installed and that this 'is great news for Intel'. He also posted the image below, which includes the following text:
"We welcome Asus as the first OEM worldwide to launch a store, assus app store, powered by Intel AppUp Center, with shipment starting 2010. The initial launch will be on Windows with a plan to move to MeeGo wehn it's ready.

The Intel Atom Developer Program enables the creation of innovative applications for devices in several categories and helps developers market and monetize their Windows and MeeGo based applications through the Intel AppUp Center".
The most likely MeeGo products from Asus is something in their netbook (Eee PC) range, most likely with MeeGo offered as an alternative operating system to Windows. However Asus did announce a tablet device, scheduled for 2011, which could theoretically run the tablet flavour of MeeGo.
ASUS press conference at Computex [source: Carrypad.com]
Intel's AppUp will likely be the app store of choice for MeeGo devices running in a netbook like configurations / flavour. Nokia will be using its own Ovi Store for application distribution on its MeeGo based handsets. However, theoretically, there should be a good degree of application cross-compatibility if applications are developed in Qt, which will be the default application framework for all flavours of MeeGo.
See also liliputing and Carrypad.com for more.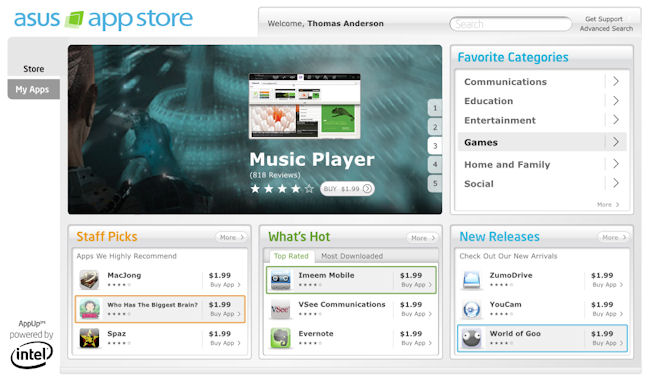 ASUS app stored (baed on AppUp from Intel [source]
blog comments powered by