Forum Nokia website design refreshed
Published by Rafe Blandford at 17:38 UTC, June 8th 2010
Forum Nokia, Nokia's developer portal, has unveiled a new look for its website. The structure of the site has changed; it is now divided into three key areas: design, develop and distribute - matching the three key parts of mobile application and service development. The website aims to provide access to a wide range of learning resources, tools and technical documents. However there's also an emphasis on helping developers connect with each other, which is achieved through the community section of the site.
Forum Nokia covers development all of Nokia's major platforms: Series 40, Symbian and MeeGo (Maemo).
The 'design' section will cover both UI design and application process or concept. The 'develop' section will, going forward, concentrate on Nokia's three key developer frameworks: Qt, Web (WRT) and Java; other frameworks, including Symbian C++, continue to be fully supported. The 'distribute' section focusses on the revenue generation and distribution opportunities offered by the Ovi Store.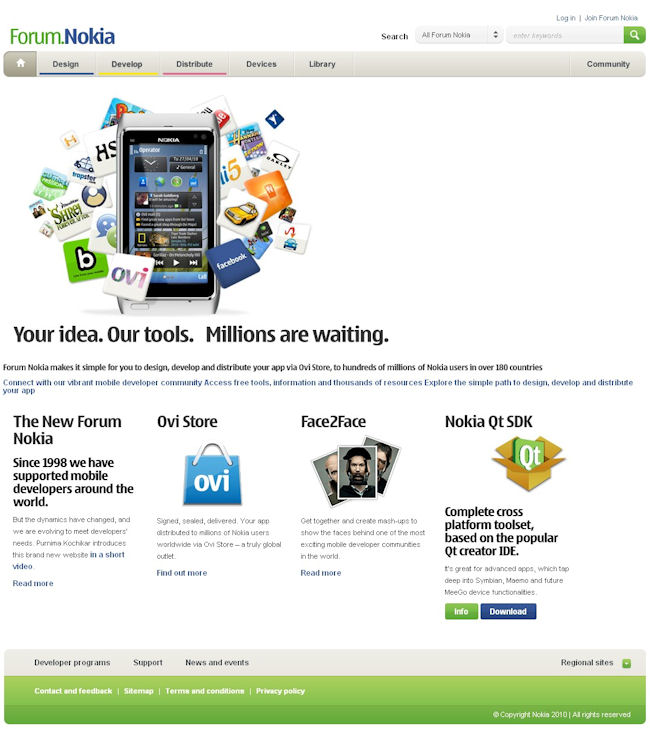 You can find more details on Forum Nokia's redesign here:
"We have worked hard to make the navigation faster and easier to follow; and you will see that we are grouping related information and tasks in ways that will help you to find precisely what you need, so that you can make the best use of your time.

And yet, even as our developer web site changes, some things will never change. We remain fully committed to open source frameworks, and building upon the strength of our global developer community."
Forum Nokia Renews its Developer Portal
blog comments powered by