Carrypad's early look at Aava's MeeGo handset
Published by Rafe Blandford at 12:42 UTC, July 8th 2010
Chippy, from Carrypad.com, has been given access to an Aava handset running an early version of MeeGo 1.1 Handset Experience. The Aava phone, which uses Intel's Moorestown processor, is a reference design, which helps further platform development and allows companies to carry out assessment and testing of the MeeGo platform ahead of commercial device releases. It represents an opportunity to see the MeeGo UI running on a device and get an impression for where MeeGo powered handsets are headed.
The Aava phone has hardware specifications typical of today's high end mobile devices. It includes WiFi and 3G connectivity, GPS, accelerometer, magnetometer, a 854x480 3.8" capacitive touchscreen, 5 megapixel camera (rear), 2 megapixel camera (front) and a microSD card slot (more specifications here).
However it is the Intel Moorestown processors that is the most interesting element. Intel is looking to push its processors into phones, an area where they have had limited success in the past. Selling more Intel chipsets is obviously an important motivators for Intel's involvement in the MeeGo project. Pushing into handsets, which is the dominant consumer electronics category on the planet (1.2 billion devices this year), is a key part of this.
It also underlines one of the key promises of the MeeGo platform - to be chipset agnostic. MeeGo 1.1 Handset Experience is running on both the ARM powered (Texas Instruments OMAP 3 platform) Nokia N900 and the Intel powered Aava device.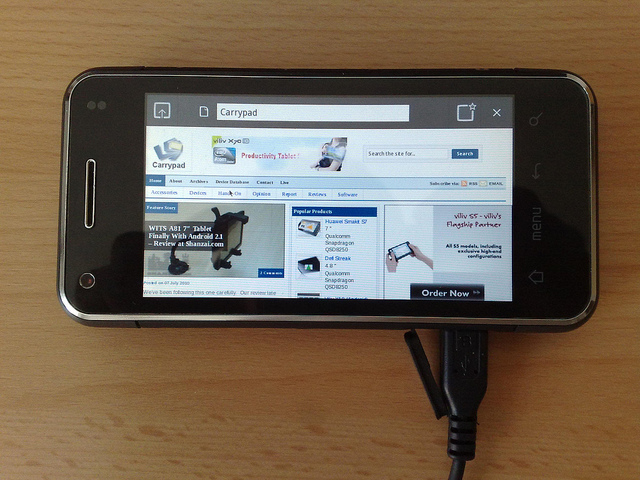 Aava Mobile [Source: Carrypad.com]
To reiterate what we said above, it is important to appreciate that the Aava phone is effectively a proof on concept device, similar to the MeeGo tablets that were recently shown off at the Computex tradeshow. It is unlikely to go on sale as a commercial product. As Chippy explains here:
At the most, i'll be able to show you the look and feel of the user interface, give you an idea of how Fennec, the built-in browser, performs on the Moorestown platform, show you around the Aava hardware...
Chippy will be adding addition content to Carrypad.com over the next few days. The first is some JavaScript benchmarking courtesy on SunSpider, which thanks to the powerful chipset shows some impressive results.
Update - here's a YouTube video from Carrypad.com:
blog comments powered by