MeeGo 1.01 for Netbooks update now available
Published by Rafe Blandford at 12:43 UTC, July 12th 2010
Last Thursday MeeGo announced the first update for the MeeGo 1.0 Core Software Platform and Netbook User Experience project release (the version of MeeGo designed to be run on netbooks). The updated version contains more than a hundred bug fixes, greatly enhances the 'visuals' of MeeGo, improves 3D support, enhances several applications and updates the kernel to 2.6.33.5. Read on for more information and illustrative screenshots.
MeeGo 1.01 Netbook Update
Here the summary of the update from MeeGo.com:
This update includes general operating system fixes that enhance the stability, compatibility, and security of your devices, as well as:

Updated to the 2.6.33.5 kernel
Faster usb storage finding time down from 5 seconds to 1
Improved 3D performance
Many enhancements in the web browser
Resolution for several email client issues
Enhanced netbook window manager
Greatly enhanced visuals
Full support for GNOME proxy configuration in the media player
More control over DNS settings
Users of the initial MeeGo 1.0 release will be automatically notified about the availability of the new release, but, if necessary, can 'force' an update by going to Applications > Systems Tools > Update System.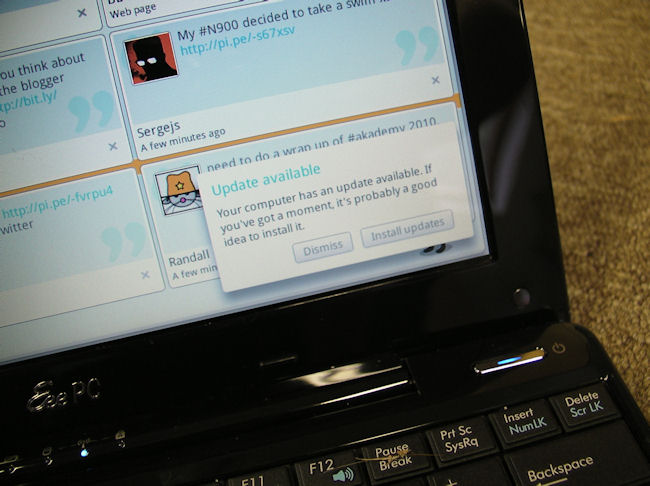 Once you have accessed the software update screen follow the on screen prompts to install the software update. We found it took around 25 minutes to complete the update, but the time will depend on the hardware and the speed of the network connection you are using.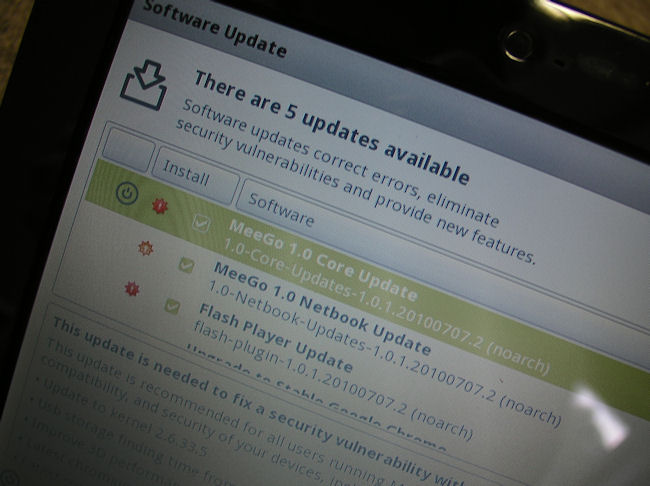 More information is available on MeeGo.com (blog post, updates page for: MeeGo 1.01 Core OS Update and MeeGo 1.01 Netbook Update) and in this MeeGo Forum thread.

MeeGo Garage
For consumers a notable change in this update is that the MeeGo Garage, a source of additional applications, is now fully working. Currently there are a relatively small number of applications available, but this is expected to grow over time. Software is divided into various categories (currently education, games, internet, media, office and system tools). Each piece of software has its own information page with addition details, screenshots and an install link.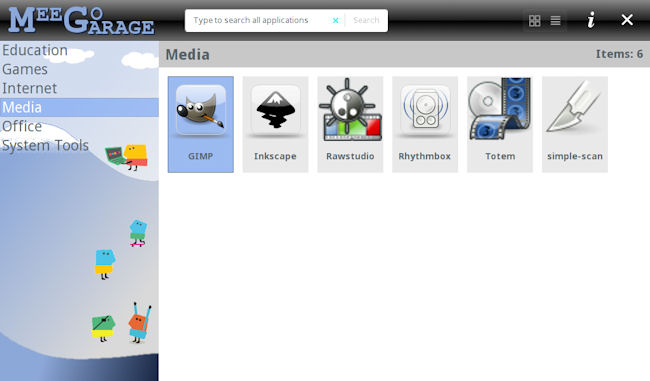 blog comments powered by