Maemo 5 Extras passes 15 million downloads
Published by Rafe Blandford at 13:27 UTC, July 12th 2010
Downloads from Maemo 5 Extras, the primary repository for Maemo applications, have now passed the 15 million mark. The 10 million mark was reached in late May. This means there have been an additional 5 million downloads in around six weeks, suggesting the rate of downloads is accelerating. The numbers are impressive for a community led repository aimed at a relatively niche device.
As you would expect some applications are more popular than others. For example fMMS, which adds MMS functionality to the N900, has been downloaded 435,634 times (reflecting both its popularity and frequent update cycle)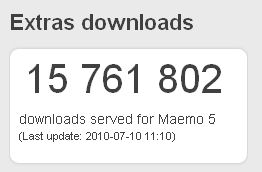 At the time of writing the Maemo 5 Extras download counter stood at 15,761,802. This includes downloads from the extras, extras-testing and extras-devel repositories. Some applications, especially those with frequent updates, will have been downloaded multiple times by the same user.
In part the high number of downloads can, perhaps, be explained by the release of PR 1.2 (some users will have re-downloaded their applications at this point). However there have also been software updates prior to this. The numbers likely reflect a combination of a continually growing installed user base and a steady flow of new and updates software releases, from multiple developers, to the maemo.org repositories.
blog comments powered by