Qt Developer Network opens in beta
Published by Rafe Blandford at 11:53 UTC, July 14th 2010
Last week Qt quietly rolled out the public beta its new developer website, Qt Developer Network, which aims to provide a one-stop portal for Qt developers and consolidate resources that were previously spread across the main Qt website. It also provides a more vendor neutral destination for developers than Forum Nokia, something that could be important in helping drive adoption of the Symbian and MeeGo platforms by manufacturers other than Nokia.
The Qt Developer Network provides the usual developer portal features: blogs, a wiki, forums and FAQs. The FAQs are automatically generated, on a nightly basis, from the Qt support database.
As you might expect, given its beta status, the site is still a work in progress. Up until last week the site was in closed testing, but is now open to all. Further details of future developments are being provided through the Qt DevNet blog and on the roadmap wiki page (e.g. coming soon: Ovi account integration, groups, eLearning content, books section and videos).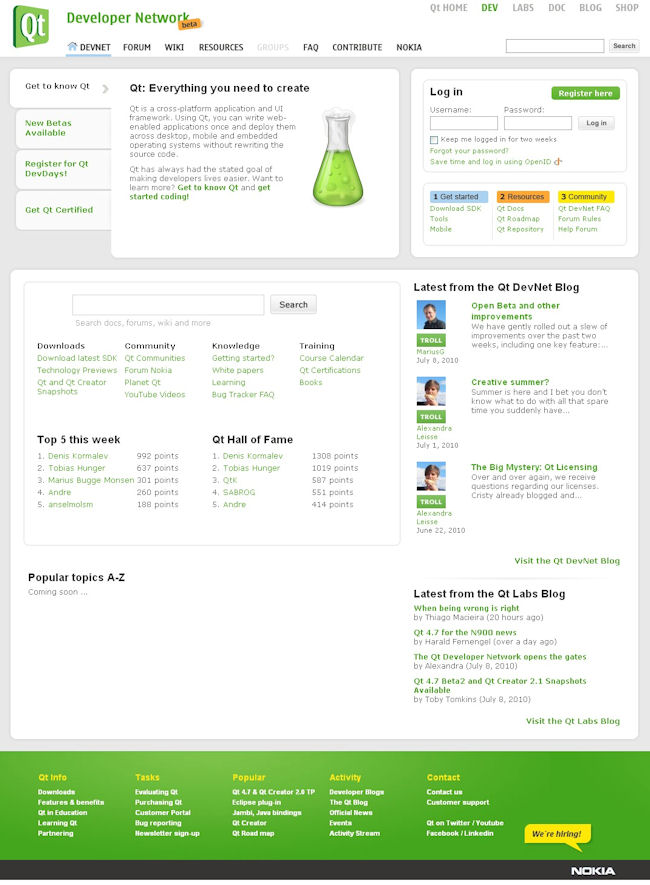 The distributed of developer resources for Symbian (and the same could apply to MeeGo in due course) across multiple sites has long been something of a sore point with developers. In terms of developers resources the centre of gravity has shifted away from Symbian towards Forum Nokia over time. This is due to Nokia de facto dominance of the Symbian ecosystem, the earlier split between platform and UI and a greater availability of resources within Nokia. The situation has improved in the last 18 months with a clearer delineation between platform developers and platform technology information (Symbian Foundation) and application development and go to market (Forum Nokia).
However, while manufacturer specific sites are inevitable in multi-vendor platforms (such as Symbian, Android and Windows Mobile), it is important to have a vendor neutral central site for key platform technologies and application development.
Qt, is set to become the dominant developer framework for both Symbian and MeeGo developers. As such the Qt Developer Network presents an important opportunity to create a neutral central developer portal. While Qt is a fully owned Nokia entity, the branding may make all the difference to other manufacturers. For example, Sony Ericsson is unlikely to link to Forum Nokia from its own developer portal, but may be prepared to link to the Qt Developer Network.
blog comments powered by