MeeGo Conference 2010 website goes live
Published by Rafe Blandford at 19:30 UTC, August 4th 2010
The MeeGo Conference 2010 website is now live. The website is now accepting session proposals (speaking slots) and registration for the conference is expected to be available shortly. The first MeeGo Conference is scheduled to take place in Dublin (Ireland) at the Aviva Stadium between November 15th and 17th. It aims to bring together a technical audience (developers, OEMs, OSVs, and MeeGo project contributors) to learn about the current status of MeeGo and discuss future directions.
The organisers note that:
We currently expect the conference to start with a small number of keynotes and two days of conference presentations in several (3-5) parallel tracks. The third day is targeted as "un-conference" with lightning talks, BoFs, hack sessions, etc.
The content of the conference is currently being arranged. Those wishing to speak are encouraged to submit session proposals (default to 30 minutes) by August 23rd. There will be a later call for lightning talks (5 minutes in length) at a later date.
All proposals are welcome; there are four general categories (hardware support, platform development, application development, MeeGo project, process and progress), but areas that fall outside these will also be considered. Proposals from the community, Intel, Nokia, the Linux Foundation and all other will be given equal consideration.
More information is available on the call for proposals pages.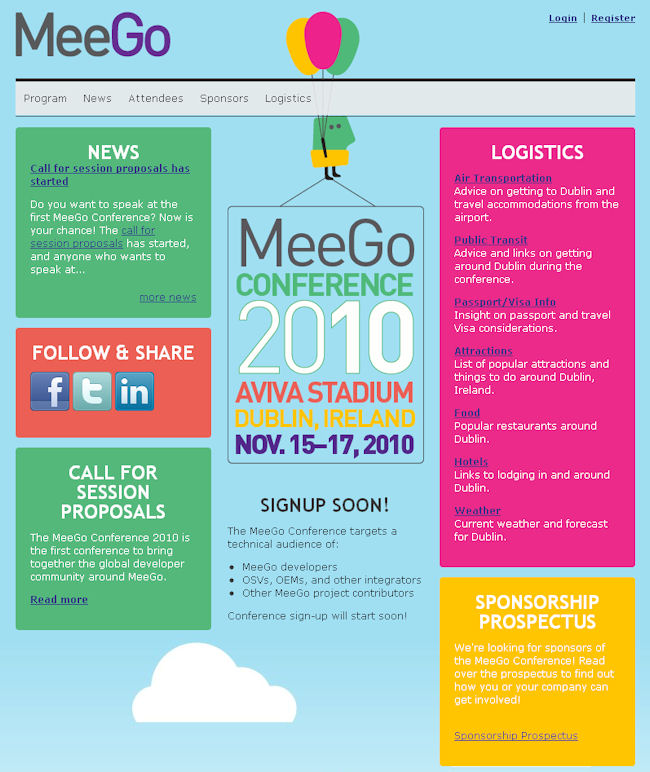 blog comments powered by