Amino Freedom - set-top box powered by MeeGo
Published by Rafe Blandford at 10:00 UTC, September 1st 2010
In two weeks time, at the IBC conference, Amino Communications will be showcasing its Amino Freedom product, a a set-top box powered by MeeGo. It is a hybrid / OTT (Over-the-Top) device, which delivers additional content, via an Internet connection, supplementing the traditional digital (DVB-T) transmissions. It is has the full Internet (including Silverlight and Flash support) access via a browser, acts as a PVR and is able to access a home network (UPnP / DNLA).
Hybrid / OTT set-top boxes look to combine traditional set-top box functionality (digital transmissions and personal video recorder) with additional 'over-the-top' (i.e. over the Internet) functions. These can include catch up services, such as the BBC's iPlayer or Hulu, but may also encompass web video services such as YouTube and Vimeo. All the services are combined into a single electronic program guide (EPG) to create a single seamless offering.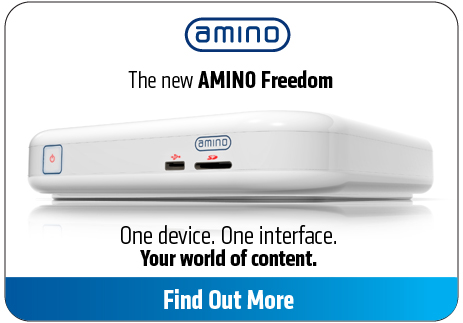 The base specifications of the Amino Freedom are:

Intel CE4150 Processor

Hard disk 250 Gb

Flash memory: 512Mb RAM Main memory: 1Gb DDR 3 RAM

HDMI 1.3 Composite Video

Analogue Audio

Ethernet 10/100 BASE-T

2 x USB 2.0

Here's how Amino Communications describe the use case for the Freedom:
Imagine watching what you want, when you want - from wherever you want - on your TV. No more switching from live TV on your digital set-top box to your laptop to watch catch-up services – or turning on the hi-fi to catch a radio show. With the Amino Freedom media centre all of this content – and more – is available through a single device and intuitive interface. All your broadcast TV favourites in glorious HD, plus the best the Internet has to offer and all your music, photos and home videos in one place – the Amino Freedom.

The Amino Freedom, in an earlier development stage, ran on Moblin. However, with the Moblin / Maemo merger in February of this year, it has now been switched to MeeGo. It is one of the first products to fall into the Connected TV MeeGo category. It further demonstrates the flexibility of the platform with MeeGo products now encompassing handsets, netbooks, tablets, connected TVs and in-vehicle infotainment systems.
More information is available on the Amino website.
blog comments powered by