The Nokia N900 receives PR 1.3 software update
Published by David Gilson at 19:48 UTC, October 26th 2010
Nokia's Linux-based phone, the N900, has received an update to its Maemo 5 operating system, which fixes a long list of bugs and performance issues. The PR 1.3 (v20.2010.36-2) update is currently available to UK (and others) users via Nokia Software Updater (NSU) and over the air (OTA) download. However, as an alternative, users can also download images for their region from Nokia's tablet firmware repository. The update also offers support to MeeGo developers, wanting to develop applications ahead of device releases next year, by including the Qt 4.7 development framework and Qt Mobility 1.02. Read on for more details.
At the time of writing, our N900 test unit had not received the OTA update notification. However, we were able to download the update via NSU. Unfortunately, NSU failed to install the patch for us, and so we resorted to downloading the international version of PR 1.3 from Nokia's tablet firmware repository, and flashed the N900 manually using the Flasher command line tool (for instructions, click here).
As ever, when performing a firmware update, we always recommend you perform a back up of your settings. Once the N900 is flashed (manually at least) user data, settings and applications are lost. However, settings and user data can be restored from the the backup file along with a list of one's applications which the N900 will automatically reinstall.
See this thread on the Maemo Talk forum for users' reactions to the update.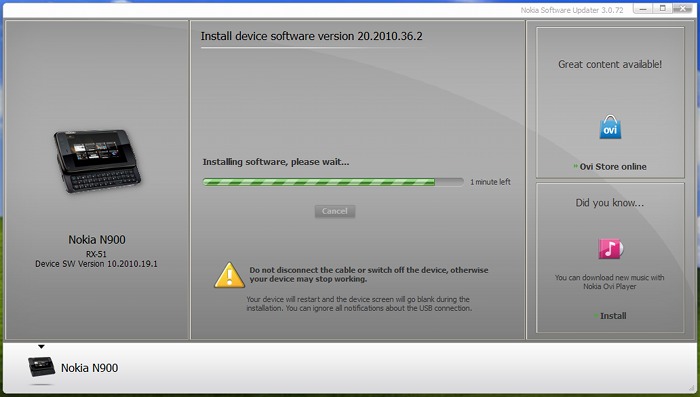 NSU updating the N900

MeeGo also has a role to play in this firmware update. There is of course the much talked about MeeGo/Maemo dual booting functionality, as announced on the MeeGo blog. This is not support for official dual boot, but rather a change to enable easier dual booting for those who do want to explore this option. As such you will not see anything related to this in the PR 1.3 user experience. We'll await further developments on this, and shall report accordingly.
MeeGo handset UI running on the N900
Perhaps the most important update is that, as announced on the Maemo development team blog, PR 1.3 brings the Qt 4.7, Qt Mobile and QML development frameworks into Maemo 5. The aim of this being to allow developers to begin developing MeeGo compatible applications on current hardware, namely the N900. Here's an excerpt from their post.
It also aligns the Qt application and UI framework with the planned version for the MeeGo 1.1 platform (Qt 4.7). Qt Mobility 1.0.2 APIs for mobile development are also included.

Software development using scratchbox for the new platform will be supported right away. For those using the Nokia Qt SDK, we have tested Qt 4.6 applications on PR1.3 and did not encounter any major problems, so you can continue to distribute apps developed with the current toolset. Support for new N900 apps with the Qt4.7 framework will be available with a Nokia Qt SDK update that will be available soon. Until then, Ovi Store will accept applications built using Qt4.6.
David Gilson for All About MeeGo, 26th October 2010
blog comments powered by