Dave Neary tells the story so far of MeeGo
Published by David Gilson at 11:24 UTC, November 9th 2010
Dave Neary, the docmaster of maemo.org and long-time member of the GNOME Foundation, has written an interesting and well researched progress report of the MeeGo story so far. Over at the VisionMobile blog, he asks the question whether MeeGo should score an "A+" or a "D-"? This is a great write up for anyone new to MeeGo; he covers the story from every perspective: openness, user experience, developers, governance, OEM's and operators. Read on for quotes and commentary.
Nokia and Intel announced eight months ago that they would join forces by bringing their Linux-pwered Maemo and Moblin platforms together, and in that time we have seen promising development. It's natural to look at the importance of MeeGo in relation to Nokia's high-end mobile device future. Although, one should remember that MeeGo is also being developed for netbooks, tablets, In-Vehicle Infotainment (IVI), and there is even the potential of MeeGo home entertainment integration.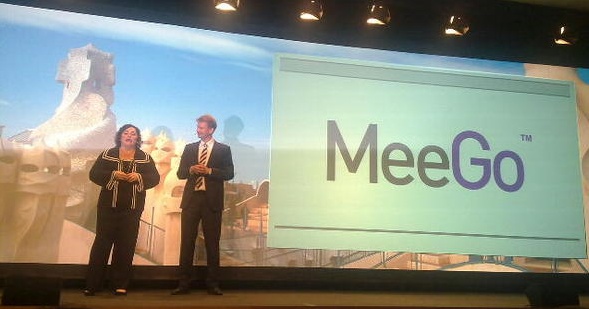 The announcement of MeeGo at Mobile World Congress 2010
In his article, Neary discusses every aspect concerning the development of MeeGo, and outlines the challenges that MeeGo faces in its near to mid term future.
Launching MeeGo and the user experience
"The adoption of Qt as the primary toolkit for both platform and applications has met with resistance from Intel engineers, who acquired Clutter in 2008 and integrated it heavily into the netbook user interface, plus partners like Novell who developed versions of GTK+ applications like the Evolution email client and Banshee music player specifically for the netbook form factor."
From the initial creation of MeeGo, there was the unsurprising challenge of bringing together the two Linux based platforms, who were each working within different programming frameworks. Fortunately for Nokia, the Qt framework was chosen for MeeGo, which further justifies their aquisition of Trolltech; and also helps with the developer story for developing across Symbian and MeeGo.
"And there is no denying that the companies involved in the project are committed to it. With the recent rumours that the Symbian Foundation may be shutting up shop, Nokia has few choices of platform left for upcoming high-end devices. Announcing their updated software strategy during their quarterly results call this month, the company confirmed that they are fully committed to MeeGo as the only platform for high end devices from now on."
Given yesterday's Symbian news, this somewhat prophetic statement brings the reader's attention back to the handset user experience ("UX"). Indeed, given the original direction of Maemo, this is of great importance for Nokia. Symbian has suffered in the U.S. markets and technology press, for being seen as not matching the UX of the Android and iOS platforms. This is a complicated subject, but can be partly explained by the philosophical differences between the U.S. centric and European vision of what a so-called "smartphone" should actually be.
Clearly, Android and iOS present themselves as handheld Internet devices which happen to be telephones too. Meanwhile the Nokia vision is that of a converged device, in which a mobile phone becomes a platform that increasingly fills the shoes of more and more consumer electronic devices. See Steve Litchfield's All About Symbian editorial, "When is a smartphone not a smartphone? When it's a converged device!" for more discussion on these differences.
Clearly, there is a future for the project. The question is, how will MeeGo Handset hold up against the competition from the platforms with the most momentum in the market – iOS and Android, or the recently released Windows Mobile 7. Will a newly reinvigorated WebOS (with Ari Jaaksi at the helm) challenge it for the mantle of the exciting new upstart? In short, is it any good? And will operators, handset manufacturers, application developers and users adopt it?
Since we do not yet have a MeeGo handset device available, it is very difficult to accurately judge the user experience at this time. It is possible to install MeeGo on the Nokia N900 and use it as a phone, using Nokia's proprietary drivers to enable the hardware, but a lot of basic functionality is missing at present. In my tests, the camera, GPS, battery indicator, network signal strength indicator and WiFi did not work correctly. Features which do work can be slow, or have stability issues. Basic functionality like reading contact details off a SIM card, or unlocking the SIM card on boot, are still missing.
Nokia has a more traditional approach of putting handset manufacturers and network operators ahead of developers. This shows through in many of the architecture decisions in MeeGo. The platform has been built with operator and OEM customisation and integration in mind from the start.
With Nokia's influence firmly in place, it would be reasonable to see that the phone-centric philosophy will carry over from Symbian to MeeGo. Although as these quotes also state, it's far too early to say whether the handset UX will be enough to satisfy those wanting a more Internet tablet-like experience from their mobile phones.
As stated in Neary's article, the current MeeGo handset builds are only meant for developers, and so everything could still yet change. Put simply, it's still too early to make a judgement on MeeGo as a phone platform.
At this time, the MeeGo Handset UX is not intended for anyone but developers. It is too early to be able to tell how the final product will compare to iOS or Android.

The developer story
It is still unclear what software distribution channels or app stores will be available for application developers on a MeeGo device. Ovi Store will be available on Nokia devices for commercial applications, and there may be a community distribution channel made available for community-built applications, but what form this channel might take, and to what extent it will integrate with the MeeGo user experience is still unclear. Presumably other handset manufacturers, should MeeGo gain wider adoption, will provide their own application stores, further fragmenting the application developer story.
Again, as with everything in the MeeGo space just now, we do have to wait and see. However, interesting lessons can be learned from Symbian. Despite the hit-and-miss nature of individual services, Nokia's Ovi service layer is a compelling added value feature to all of its handsets. So much so, that it is a noticable omission on non-Nokia Symbian handsets; see my AAS editorial "Does Symbian have a service layer gap?". If MeeGo does see wider adoption in the handset market, it will be interesting to see if other OEMs will make a greater effort in investing in their own service layer, lest their devices suffer due to the added value of Ovi.
Much more thoughtful analysis can be seen in Dave Neary's article over at the VisionMobile blog, we recommend you read the full article.

David Gilson for All About MeeGo, 9th November 2010

blog comments powered by