The DIY cameraphone test
Published by Steve Litchfield at 9:33 UTC, November 25th 2010
Kudos to the web programmers and the rest of the team at GSM Arena, who have produced the really rather cool 'Photo Compare Tool'. Essentially they've taken a large number of recent phones and smartphones and shot the same three test photos with each (ISO 12233, Grey and Colour). You can then choose which three phones you'd like to compare using the drop-down pick lists and click any of the offered crops to show the full photo in the main window. Oh heck, just go try it, you'll see what I mean. Curiously, the Symbian-powered camera champions, the Nokia N86, Samsung i8910 and Sony Ericsson Satio aren't represented, but there's still plenty of other Symbian (and Maemo) interest. Full list below.
Thanks to deekbee for the heads-up, by the way.
With your chosen three phones selected, click on part of the main image to show that same detail for each of the other compared phones. It's a slick system and well worth a play.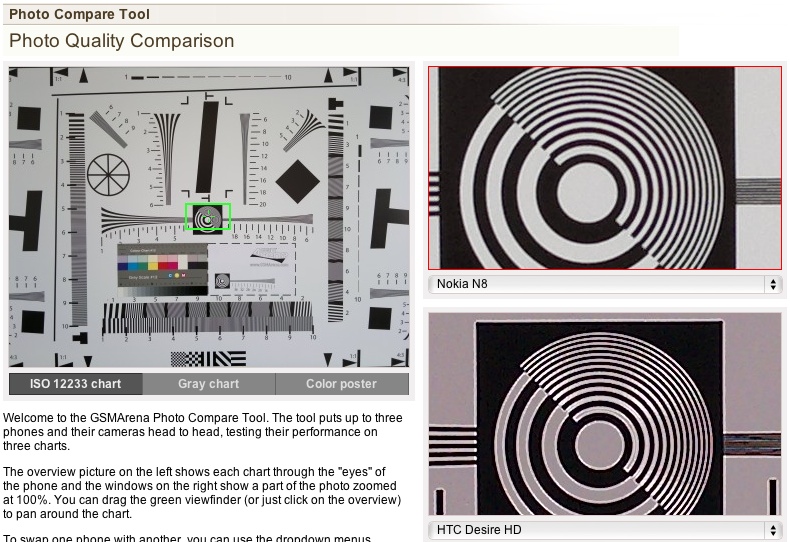 The full list of phones that the Photo Compare Tool currently covers is (Symbian and Maemo-powered phones in bold):
Acer Liquid, Acer neoTouch, Acer Stream, Apple iPhone 4, BlackBerry Bold 9700, BlackBerry Pearl 3G 9105, BlackBerry Torch 9800, Dell Streak, Gigabyte GSmart S1205, HTC 7 Trophy, HTC Aria, HTC Desire, HTC Desire HD, HTC Desire Z, HTC Google Nexus One, HTC HD mini, HTC HD2, HTC Legend, HTC Smart, HTC Tattoo, HTC Touch2, LG BL20 New Chocolate, LG E900 Optimus 7, LG GD510 Pop, LG GD550 Pure, LG GD880 Mini, LG GT540 Optimus, LG GW620, LG KM570 Cookie Gig, LG Optimus One P500, Motorola BACKFLIP, Motorola DEFY, Motorola FlipOut, Motorola MILESTONE XT720, Nokia 5330 Mobile TV Edition, Nokia 6303i classic, Nokia 6600i slide, Nokia 6700 classic, Nokia 6700 slide, Nokia 6760 slide, Nokia C5, Nokia C6, Nokia C6-01, Nokia C7, Nokia E5, Nokia E55, Nokia E72, Nokia N8, Nokia N900, Nokia N97 mini, Nokia X2, Nokia X3, Nokia X3-02 Touch and Type, Nokia X5-01, Nokia X6, Palm Pre, Samsung B5310 CorbyPRO, Samsung B7300 OmniaLITE, Samsung B7610 OmniaPRO, Samsung I5800 Galaxy 3, Samsung I7500 Galaxy, Samsung I8700 Omnia 7, Samsung I9000 Galaxy S, Samsung M5650 Lindy, Samsung M8910 Pixon12, Samsung P1000 Galaxy Tab, Samsung S5620 Monte, Samsung S7230E Wave 723, Samsung S8500 Wave, Samsung S8530 Wave II, Sony Ericsson Aino, Sony Ericsson Aspen, Sony Ericsson C901, Sony Ericsson Elm, Sony Ericsson Hazel, Sony Ericsson Vivaz, Sony Ericsson Vivaz pro, Sony Ericsson XPERIA X10, Sony Ericsson XPERIA X10 mini, Sony Ericsson XPERIA X10 mini pro, Sony Ericsson XPERIA X2, Sony Ericsson XPERIA X8, Sony Ericsson Yari, Sony Ericsson Zylo.
blog comments powered by