Apps are (almost) dead - long live the mobile web?
Published by Steve Litchfield at 8:34 UTC, February 21st 2011
There's an interesting editorial over at The Telegraph, quoted below, in which the author questions, as I have done several times, the prevailing wisdom over whether the current craze for 'apps' (for accessing information and services) is a good thing. The editorial starts and ends in the pub, which is a good start to some decent left-field thinking. Why use 'apps' when we have the Web itself? Surely what we need is a better and more intelligent Web?
Monty Munford writes, in The Telegraph (full article):
So what of the mobile internet for business? As we stand, there seems to be little strategy in mobile for those who have websites. Personally, I need the mobile internet more than I need to make or receive phone calls and I would suggest that most professional people are the same.

But so many times I've have had to wait on a mobile website to load and it's simple to cancel the process and go elsewhere. Businesses should know this but it would appear there's a lot more they have to learn.

Which other channel is as insane and bonkers to a business as the apps model? Where else would companies have a shop-front (website) that advertised and directed customers to another shop-front? That's how it works with having products on Apple's app store.

Naturally, as smartphone usage increases and customers as well as companies start thinking smarter, this model will cease to apply, but the time to do it is now. In two year's time it will be too late, the audience is already engaged and is moving away from apps to a world that replicates the one in front of their PC.

By the time 2013 comes around, the business of mobile apps is going to be a lot different than it does today. Rather like my pub bet of 1999, downloading apps will be as relevant to the mobile web as ringing directory enquiries was then, even though it may be faster than drinking two pints.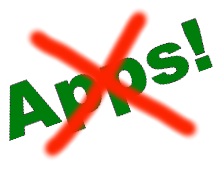 Starting with my well received 'There's a bookmark for that', I've been thinking along similar lines for ages. However, implied in my original article was a certain level of geekiness - the user had to, in many cases, know the magic runes to get to the appropriate 'mobile'/'low bandwidth' versions ("What do you mean? It's obvious! Just go to m2.mysite.com/pda/low/index.htm etc!") of various sites, even if it was easy-ish to bookmark them for later use with one click.
What's needed, and what is happening slowly (though not fast enough), is that any web site or service worth its salt should respond appropriately to a user going to its top level address on a phone with limited screen real estate. What's served up should be rich, in that all the essential functionality is present, but efficient in that heavy Flash animations, fixed width 1000 pixel layouts, CSS gimmicks, multimedia ads are all firmly conspicuous by their absence.
Why on earth should we have to have 'apps' (with all their implied wastage of space on interminable app menu screens) for the likes of National Rail or Weather or eBay or Stocks (etc) when there's a perfectly good system for accessing online information, front and central on every phone: Web/Safari/Browser (dependent on device)?
In compiling my (shamefully neglected and incredibly sparse, I know) '3-Lib Web Guide' (a bookmarkable page of those geeky low bandwidth versions of web sites) and in updating it recently, I noted that many of the fiddlier URLs had indeed been replaced by the usual nnnnnn.com top level domain addresses, with the sites themselves auto-detecting the platform and screen capabilities of the visiting device. So change is happening, though not perhaps (according to Monty above) fast enough.
He quotes 2013 as a timescale for 'apps' appearing to be outdated and archaic and I'd agree, at least in terms of access to information and services. For example, you need to send some flowers to a sick mum. Or you need to look up a plumber. Or a train time. Or a flight status. Or find second-hand cars. Under the apps model, you'd scroll through your pages of 'apps', trying to remember where you saved the appropriate icon (or, if clever, you'd start typing its name into the appropriate app finding form). Isn't it ultimately more efficient and scaleable for the future if all online information and services are simply accessible via the ubiquitous browser?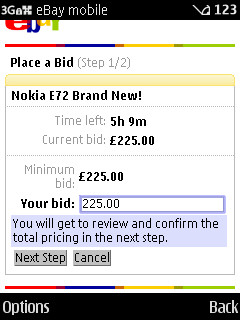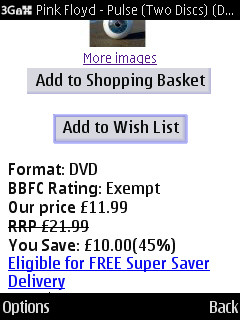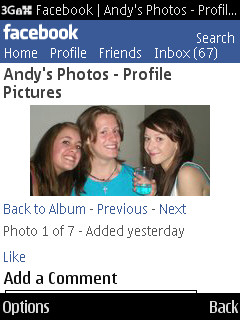 This will work by typing what you want into Google or Bing and having server intelligence do the rest. The sites you get directed to will know that you're browsing on a Nokia N8 or Apple iPhone (etc) and will serve up the perfect experience. It's notable that the web site that everyone loves to hate when doing web browser tests on mobile (for being a bloated, multi-megabyte mass of modern web technologies), Engadget.com, actually doesn't serve up the massive byte count by default when you access it on a phone. Credit where credit is due, the server does the right thing and serves up a far more streamlined story-based news feed. Which loads far faster, even in Symbian's slowish browser than the full Engadget site does in a desktop web browser, incidentally.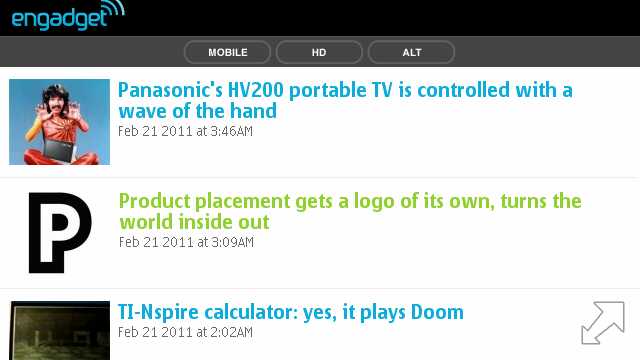 Monty refers to the current lottery of mobile access to the Web, wherein you hit up a nnnnn.com address on your phone and wonder whether you'll get something sensible, served up in a few seconds or a bloated mess that's stuck 'loading' thirty seconds later. In the latter's case, you'll simply swear under your breath, close the browser and move on. The mobile Internet clearly just isn't all there yet.
'Apps' for online services are a halfway house, a useful way (especially for beginners) of visualising and accessing specific information. But, for this use at least, apps really shouldn't exist at all. And, one day, may well be doomed.
Monty poses the question:
"...mid-2008 when Apple launched the App store on its recently launched iPhone and turned us into mobile-potatoes and consumers of applications. Nobody would doubt that this catalyst finally 'tipped' the mobile internet, but almost three years on, isn't it time to move on from the halfway-house of applications and finally cuddle up, strip off and get down with the real mobile internet?"
It will be perceived as somewhat ironic that I'm posting this on All About Symbian when the Nokia/Symbian web browser is widely ridiculed as not being a very speedy way to browse the Internet in the first place. But if web servers were more intelligent about what they served up (without the user having to do, or know, anything special in terms of what they clicked on or typed in), it shouldn't matter whether the user has an iPhone 4, a HTC Superwonderful S2 Pro, a Nokia N8, Nokia N900 or a Palm III - they should still get what they're after, without having to die of boredom.
Comments welcome if you too have got tired of the chore of organising dozens of brightly coloured icons, if you're tired of waiting for that web service to come out 'for Symbian', or if you can envisage a better way of working in the future.
Steve Litchfield, All About Symbian, 21 February 2011
blog comments powered by