4tiitoo plans upgrade of WeTab OS to MeeGo 1.2
Published by Rafe Blandford at 16:09 UTC, May 23rd 2011
Today, at the MeeGo conference, 4tiitoo AG announced that it plans to integrate the MeeGo 1.2 common code into WebTab OS. The OS, which is used on the WeTab tablet, consists of a user experience (UI) layer built by 4tiitoo, using the MeeGo UX framework for tablets, sitting on top of the core MeeGo OS.
The WeTab is a MeeGo based mobile tablet that started shipping Septmber 2010. It features a 11.6 inch multitouch TN panel screen (1366 x 768 resolution), an Intel 1.66 Ghz Atom N450 (Pineview-M) and Intel GMA 3150 graphics. It has primairly been marketed in the German market, but is also available in Austria, the Netherlands and Spain. More information is available on the WeTab website.
The WeTab is based on the same OEM hardware used by ExoPC, which is being used as the reference device for the MeeGo Tablet UX.
Stephan Odörfer, CTO of 4tiitoo AG, said:

"The integration of MeeGo v1.2 constitutes another milestone in the development of the WeTab. With its open system architecture the WeTab offers not only an alternative to closed systems but also proves by its constant advancements the adaption to market developments and needs". With its innovative user interface the WeTab OS allows a simple and intuitive use for everybody – with or without previous knowledge in computer education."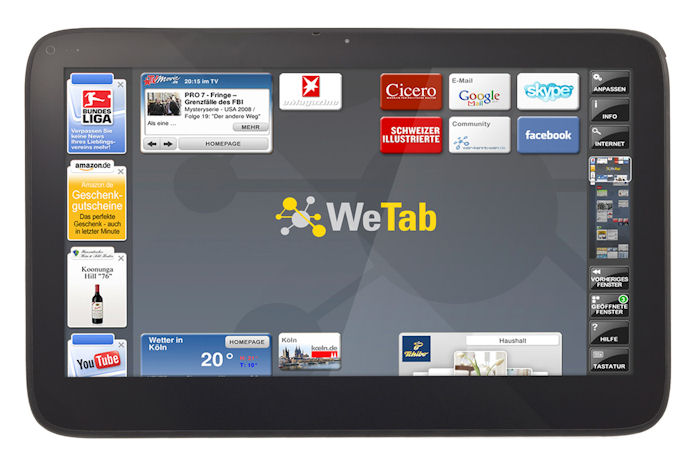 4tiitoo's WebTab
blog comments powered by