Nokia Maps 3D - the 'making of' DVD extra
Published by Steve Litchfield at 11:08 UTC, October 25th 2011
Nokia Maps 3D is a desktop browser-based 3D mapping tech demo, with (currently) 23 major cities around the world mapped in glorious, true 3D, with data and textures gathered from satellites, planes and cars, using conventional cameras and laser rangefinders. Anyway, Nokia just released a rather cute 'making of' video, demonstrating in public-friendly form, roughly how it all gets put together. It's embedded below - comments welcome. Oh, and apparently you'll soon not even have to install a plug-in into your browser...
Of course, the resources to do all this for much more of the world's urban areas would be enormous, but we'll settle for this as both a good start and a good demo of Nokia's 3D mapping technology.
And, just to be topical, here's London's ExCeL centre, as viewed in Maps 3D in Chrome on my desktop: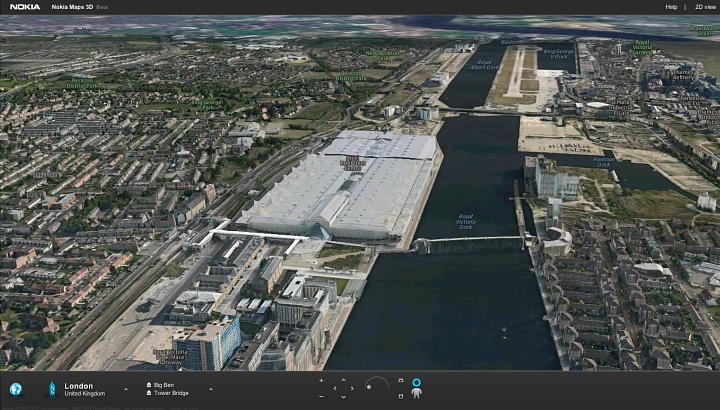 This is where the AAS team will be for the next 48 hours!
Nokia Conversations just announced that Maps 3D is being implemented in WebGL, which means that soon you'll be able to enjoy all this without having to install a plug-in into your web browser:
First of all, a nice surprise for the location fans among you: the wonderful Nokia Maps 3D is going to be 100% 3D and 0% plugin. If you want to give it a try, it's been available for a while. All you need to do is point your browser (only Chrome at the moment, other browsers are being tested) tohttp://maps.nokia.com/webgl

blog comments powered by