Version 1.1 firmware update for the Nokia N9
Published by David Gilson at 11:34 UTC, November 22nd 2011
If you haven't already received the v1.1 firmware update for your Nokia N9, you soon will be according to Nokia Conversations. The update brings in a range of new features to enhance the user experience of the device. Notably, the lock-screen now supports notifications and music controls. Another significant user experience update is that the third party Swype keyboard has been included. Filters have been added to the camera application, such as black & white, Sepia, Negative, etc - standard fare for camera phones. Also NFC tag reading is now supported - expanding the N9's NFC functionality beyond proprietary Nokia accessories.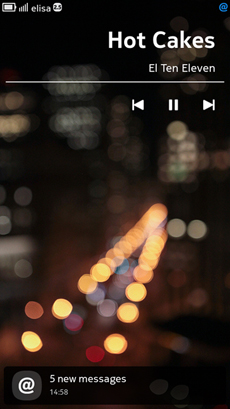 New Nokia N9 lock screen with music controls and notifications

Nokia Conversations also reports the following updates:
Chinese language support.
More powerful multitasking with improved memory handling.
Faster Mail for Exchange synch, synchronizing only active folders.
Noise cancellation, reducing background noise so that callers can hear you better.
Swipe down to close apps easily; now on by default.
PLUS multiple improvements to the operating system.
Feel free to share your experiences in the comments.
blog comments powered by